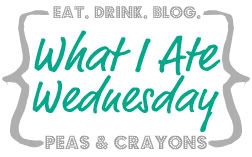 Happy WIAW!
We've had friends visiting since December 27, which is awesome although also exhausting because we've also been working our regular schedules. Here are a few things we've eaten this past week. Of course, I've been drinking my morning coffee with almond milk (here in my adorable new hand-painted mug I got from work for Christmas).
We've joked that we've only been eating either really healthy or really unhealthy meals. Here's a healthy breakfast: acai bowl! With granola, berries, banana and honey.
Here's one of our unhealthy (but so satisfying) breakfasts: loco moco with fried rice!
An unhealthy lunch: plate lunch at Keneke's. I had the mini teriyaki chicken plate with rice and mac salad.