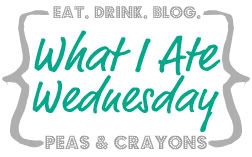 Welcome to a weekend edition of What I Ate Wednesday, hosted by Peas & Crayons. This is what my Sunday looked like:
Breakfast: my usual, a green smoothie! This one packed a whole lot of organic ingredients in:
.5 cup pure & unsweetened (not from concentrate) blueberry juice
.5 cup water
1 celery rib
.5 banana
.3 cup frozen spinach
.25 cup frozen blackberries
fresh squeezed lemon juice (about half a lemon)
1 scoop wheat grass powder
1 tsp. chia seeds (sprinkled on top)
Estimated calories: 200 (serves 2)
Snack #1: Since our smoothie was so low-cal, we were hungry again soon. We shared a small plate of Flathau's Fine Foods chipotle cheese straws and Nueske's Applewood Smoked Landjaeger Sausages, both of which came in Mary's Secret Ingredients Spring 2014 box.
I also had a cup of detox tea.
It was really nice out, so Kiyo and I walked a mile down to Socrates' Sculpture Park to see the new installations. All the new pieces are huge; in fact, there are only three, since they're so large.
Lunch: By 1 PM, we were starving again so we walked the mile back and decided to try the Thai brunch at Leng Thai. For $20, you get a brunch entrée and your choice of three beverages. I had a coffee and two pomegranate mimosa (I actually asked if I could order a brunch entrée without the drinks and they said yes, but it'd still be $20, which is ridiculous, so I just ordered all three beverages). It was nice being able to sit outside in a t-shirt and shorts! You can even see the blue sky and trees reflected in my coffee.