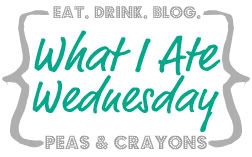 Yesterday was a long day at work plus I woke up before 6 AM to work out, so I ended up being pretty hungry and eating a lot of protein. When I woke up I ate a tablespoon of Justin's chocolate hazelnut butter, which tastes like a nuttier version of Nutella (it's addictive). Then I ran 5.5 miles and did some core exercises. For breakfast I had an apple cinnamon Chobani Greek yogurt with my new favorite granola, pumpkin fig by purely elizabeth. Tea is creeping back into my life now that it's getting so cold, and I had a mug of organic roasted dandelion root tea with lemon, along with my yogurt. Between meetings at work I snuck a large handful of almonds and organic raisins, 2 ounces of my favorite deli meat, Boar's Head Cracked Pepper Turkey Breast, and a Pamela's dark chocolate chocolate chunk gluten-free cookie.
Very late in the afternoon, I finally ate my lunch: organic mixed greens with cherry tomatoes, broccoli sprouts and Newman's Own Lite Honey Mustard dressing, and a karmal candy for dessert. For dinner I had one scrambled egg with Trader Joe's ketchup and two slices of their bacon, which I love. While I was cooking I snacked on a couple garlic-stuffed olives, and for dessert I ate three more double chocolate cookies. I couldn't help it, they're so delicious and I may be addicted to chocolate. In my defense, they're not very big and they're semi-healthy.
Not pictured: Yogi Echinacea Tea and Yogi Caramel Apple Spice Tea.
Total estimated calories: 1400
What did you eat today?