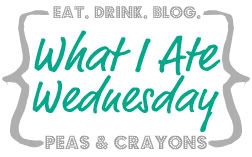 Due to some medical issues, I decided to do a one-week cleanse and test, to see if some foods might be causing me issues (one week later, I'm glad to say that I don't think they are). The diet meant I couldn't eat gluten, dairy, corn, salt or sugar. I'll be honest and say I avoided salt, but I can't say I went "salt-free" since there were a few things I ate which already had a little bit of salt added. But I didn't add any salt to anything, and wherever possible I avoided items that contained it.
Here's what day 1 without all those items looked like:
Breakfast: luckily my breakfast smoothies don't contain any of the off-limits items, so I made it per usual, just leaving out the stevia/sugar. The bee pollen, although mild with a waxy texture, gives it just enough sweetness along with the milk and banana (serves one):
.5 cup almond / coconut milk blend
1 banana
2 tbsp. PB2
1 tsp. bee pollen
3 ice cubes (this is unnecessary if you use a frozen banana)
Snack #1: Lunch came in the form of three small rounds of snacking: the first was half of an organic avocado with balsamic vinegar. I normally would've added garlic salt, but I restrained myself.
Snack #2: black rice with half of a baked sweet potato and a dollop of hummus. You can't tell from the picture, but this was a really small portion of food. The rice was only 1/8 of a cup before cooked and the sweet potato wasn't too big either. It was delicious though!
Snack #3: 28 wasabi and soy sauce almonds. These had salt, obviously, but I already had them in my desk and didn't want to spend more money on nuts, which are expensive. Also, I needed some protein!
As I mentioned, I wasn't feeling too good last week, so I briefly stepped out of work for an afternoon walk in sunny Central Park and picked up a half bottle of fresh squeezed orange juice from Delissimo Deli.