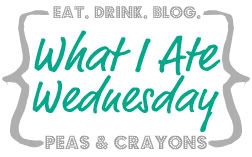 Sometimes I have a problem remembering to document a full day of eating. So, here's my first WIAW from Hawaii that's from a bunch of different days.
BREAKFASTS: 
Iced coffee with almond milk, and fried rice made with leftover stir-fry of tofu, bok choy from the CSA box, and onions. Surrounded by my current reading and the GRE prep book I keep avoiding… I need to get a book stand so I can eat and read without difficulty.
After yoga one morning I made a big breakfast of
CSA box organic grapefruit
CSA box organic mizuna greens (sautéed with olive oil and cumin, turmeric and curry powder)
Eggs scrambled with cottage cheese
Half a chicken and spinach sausage
Condiments: hot sauce, ketchup and mayo (yes, all three!)
LUNCHES: 
Caprese sandwich: prosciutto, mozzarella, tomato and basil pesto (served with chips and fruit salad) at the Neiman Marcus café with my dad. I ate half the sandwich at lunch and the other half later in the afternoon, at home.
Another lunch with dad, this time at Hard Rock Cafe in Waikiki right after I taught and took yoga classes. I had the "fiesta" burger: topped with cheese, salsa and guacamole. Let's be honest, it was the guac I was after. Again, I ate half and then finished it later at home (actually, the next day. I actually love having leftover burgers, they're sturdy so they can easily be reheated)/
At home: I roasted potatoes and two types of sweet potatoes in the oven with olive oil, fresh rosemary and Meyer lemon from the CSA box. I topped it off with a soft-boiled egg and homemade garlic aioli (nonfat Greek yogurt, mayo, garlic, herb sea salt, pepper). This was GOOD if I do say so myself.