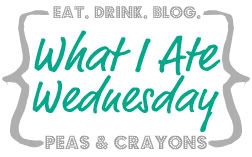 Happy Hump Day and What I Ate Wednesday! This is actually what I ate on a recent Saturday. Hurricane Ana was supposed to hit, but luckily we just got a lot of rain and wind.
First I taught my power yoga class, and then I stayed at the studio to take the next class, a 75-minute vinyasa flow. I actually really enjoy going to and teaching yoga when the weather is stormy. It's so cozy to be inside practicing when it's rainy and windy outside. I had a coffee before the first class, and then I snacked between classes and after the second class. My snacks were:
Half a cup of pistachios
1 light Babybel cheese
Half a grapefruit (from our organic farm CSA box)
1 apple banana (also from the box)
After yoga I headed to the park to watch a family friend's soccer game. It was so rainy and windy out, we all had to crouch under an umbrella with rain coats on, and we still got pretty wet! Afterwards I snagged a clementine and a small slice of pizza from the kids' food table. Don't worry, I waited until after all the little soccer players had eaten their fill!
After that, I hung out at home getting some work done and reading. My cat, Holly, hung out inside with me. She's usually an outdoor cat but Kiyo and I like to let her in to hang out with us; she's getting really spoiled!
For dinner, Kiyo made flatbreads topped with leftover pot roast. I sauteed some chard from our farm box in bacon fat and Tahitian lime (also from the box… can you tell that our entire lives now revolve around these boxes?). We spread homemade pesto on the bread (made with almonds, olive oil, garlic and basil from the CSA box) and topped it all off with shredded cheddar and Parmesan cheese. This dinner was so delicious that I ate the whole thing (we each made our own) even though it was huge!