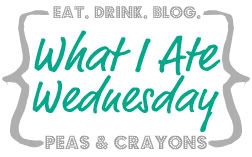 Another week, another What I Ate Wednesday hosted by Peas & Crayons! Apologies for the lack of posts lately, but we've been so busy and even though I'm home by 6 each evening, I'm so tired I can't do anything except my homework, eat and sleep.
Tuesday, July 22: Day 8 of Yoga Teacher Training
7:20 AM: Wake up
7:30 AM: Pre-breakfast
Again, I had a quarter cup of aloe vera juice with lemon juice and water, as well as three krill oil capsules.
8:00 AM: Breakfast
In the car on the way to the yoga studio, I had a coffee with coconut milk and a small applesauce. Sadly I forgot this Mojo trail mix bar on the kitchen counter so I didn't get to eat it! That was really disappointing.
8:30 – 9:30 AM: Power Yoga
Our first yoga practice of the day went well but I was starving towards the end!
9:45 AM: Snack
I really wanted that trail mix Mojo bar, but I had to eat what I had in my bag (at least I had backup!), which was a cookies & cream Quest bar.
10:00 – 11:15 AM: Power Yoga
We went right into another practice, which I thought would be exhausting but it actually felt really good, even though it was tiring.
12:30 PM: Lunch
We sat in a nearby park to eat lunch, which was nice. I brought a big container of leftovers from the dinner Maggie's mom made Monday night: pasta salad with ham, fresh mozzarella and cherry tomatoes, as well as zucchini, yellow squash, basil and chives from their garden! Food picked from the garden right outside the kitchen just tastes better, and so fresh.