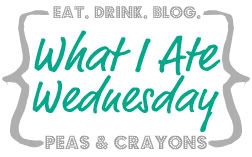 8:00 AM: Breakfast
Before heading to a doctor's appointment, I made a quick smoothie with tart cherry juice, apple juice (both organic and not-from-concentrate), nettle-leaf iced tea, acai berry powder, green powder, ice and chia seeds on top. It was really watery, more like juice than a smoothie, but the taste wasn't bad.
11:00 AM: Snack
I was hungry again after the doctor, so I swung by Diamond Head Market & Grill for one of their famous blueberry cream-cheese scones. They are HUGE (you can't tell from this picture) so Kiyo and I split it when I got home. Usually scones are quite dry, but this one was so moist I wouldn't have dreamt of putting butter or anything else on it, it was perfect just as it was. We also had iced coffees, mine with honey and almond milk.
1:00 PM: Lunch
Kiyo and I got our first CSA (Community Supported Agriculture) box from Ma'o Organic Farms this weekend! The arugula was great on sandwiches over the weekend, but we still had a lot of it and it was starting to wilt, so I decided to make it into a purée, similar to pesto. It was super easy: I simply put the arugula, a clove of garlic, olive oil and about two tablespoons of walnuts into the food processor. I spread the purée on a slice of whole-wheat bread, and with cheddar I made us grilled cheese sandwiches for lunch. They were so tasty, I have to give myself a pat on the back for the idea.
3:30 PM: Exercise
I spent the afternoon finishing my book, Gone Girl by Gillian Flynn. It is so well-written, with such developed, interesting characters and unexpected plot twists, I literally couldn't stop reading it. I started and finished it in just about 24 hours. Then I did half an hour of yoga (at home) and ran 2.5 miles. It was 82 degrees out with 83% humidity, and I was struggling hard, even though I wasn't even going fast!