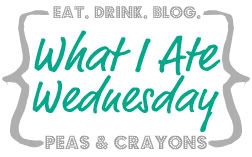 Today's What I Ate Wednesday is another guest post (see Flavia's from last week here). This time it comes from my friend Jenna, who I ran the half-marathon with this April (check that out here). Check out her eats below and Happy WIAW!
Hi Everyone! My name is Jenna, and I blog over at Slice of Sparkle. Usually you can find me talking about desserts (like Dominique Ansel's cookie shot!), fashion and other day-to-day ramblings. Val and I first met about two years ago at work. (She's since left – and I miss her dearly!) We quickly became friends once we discovered how much we had in common – namely: FOOD. We also ran a half marathon together this past April (a first for both of us!), which you can read about here. Anyway, back to today's post. When Val asked me to contribute a WIAW post for this week, I jumped at the chance! I've never actually written one before, so why not start today? Here goes:
Breakfast: Water, water and MORE water. I drink so much water… it's not even funny. Sometimes I question whether it's even normal. Haha.
Then I ate a big bowl of overnight oats topped with sliced banana, almonds and peanuts, along with two cups of black coffee (necessary!).
I love Fairway's flavored varieties. This morning I opted for Hazelnut!
Lunch: I'm pretty snack-y at lunch. Today's line-up: Trader Joe's blueberry Greek yogurt, cereal/nut mix (Nature's Path Flax Plus flakes + almonds + peanuts), apples and carrots.