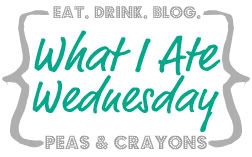 Here is what I ate last Wednesday for today's edition of WIAW hosted by Peas & Crayons:
Breakfast: Kiyo and I had half a can of leftover pumpkin so for two days we indulged in creamy, sweet pumpkin spice smoothies (recipe serves two):
2 cups almond milk
1-2 scoops protein powder (I've been using vegan hemp powder)
.5 cup canned pumpkin
2 tbsp. maple syrup
2 tbs. half & half
.5 tsp. pumpkin spice (see how to easily make this at home, here)
.5 tsp. vanilla extract (we always use Nielsen-Massey Pure Vanilla Extract)
1 cup ice cubes
I had green tea with lemon and a tiny bit of stevia at work.
Lunch: Around noon I ate two small vegan, gluten-free pumpkin dark chocolate chip muffins I'd made. They'd received mixed reviews; my coworkers and I thought they were pretty good, but Kiyo and his coworkers thought they were a bit dry.