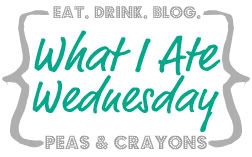 Last week Wednesday this post went up prematurely; I'd scheduled it and forgotten to write anything! So apologies for the repeat, but here are the pictures again, this time with explanations:
Kiyo and I spent a couple of days in Seattle this month, staying with his brother and sister-in-law. Here's what one of our days looked like:
Breakfast: tiny apple and black coffee, before an hour-long power yoga class at Urban Yoga Spa. I really disliked this teacher, but I ended up taking three classes over three days, and the third teacher was great.
Snack: Right after my yoga class, Kiyo and I shared leftover Thai food from our dinner at Buddha Ruska: white rice with crispy garlic chicken, and chicken pad see ew with broccoli.
Lunch: After running a few errands, Kiyo and I met up with his friend Lizzie (the co-founder of awesome vegan & fitness blog Photosynthesis206) for lunch at Lá Lốt – more Asian food! I ordered the sausage, which turned out to be meatballs, but were delicious nonetheless. The meat came with vermicelli, a sweet and sour dipping sauce, and a vegetable and herb salad.
Snack: After lunch, Kiyo and I picked up iced coffees (mine with half a packet of stevia and just a drop of skim milk).
Snack: On the ferry ride back to Vashon, where Kiyo's dad, brother, sister-in-law and nephew live, we snacked on a Trader Joe's dark chocolate / caramel / sea salt bar. These are so good! I had the full serving of four squares.