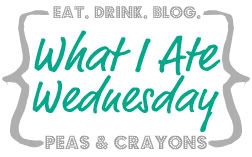 A lot is suddenly going on right now, so I'll have to be brief today for WIAW. Updates and more posts coming soon!
Breakfast: iced coffee and green smoothie (aloe water, tart cherry juice, frozen strawberries, acai berry powder, moringa powder, chia seeds).
I taught a power yoga class and then took an all-levels vinyasa class.
Lunch: sandwich with homemade pesto (basil, garlic, olive oil, almonds), mayo, mustard, cheese, capers, roasted eggplant (with turmeric, cumin, paprika) and mixed greens.
We had some white bean and sea salt Beanitos chips on the side. These are so delicious! And they're basically all protein.
Kiyo and I had to move bricks for my mom; they were heavy and it felt like a workout! Then I did my barbels, 30 pounds. I also practiced some forearm stands, I'm getting better but still not there without the wall.
Dinner: We made salads with the mixed greens and daikon from our CSA box, topped with a veggie burger (these are from Costco, are made with sweet potato and sunflower seeds and are a great option if you're not a big fan of mushrooms). I made us a dressing by pureeing our leftover roasted eggplant with tahini, sesame oil and Greek yogurt. It was a bit too thick but tasted good. I also had a glass of white wine, and (not pictured) some chocolate chips for dessert.
Total estimated calories: 1,800
What did you eat today?