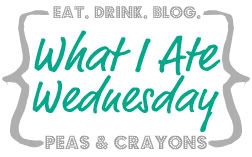 This WIAW is jam-packed full of food and physical activity. When I'm physically active, I become ridiculously hungry and also need a large amount of sleep. Here's what one of my active days recently looked like.
8:00 AM: Breakfast
I had an iced coffee with stevia and a smoothie (nettle leaf iced tea, tart cherry juice, lemon juice, acai powder, green super food powder, ice, chia seeds).
9:00 AM: Yoga
I taught a Morning Flow yoga class at Yogaloha (if you'd like to come to one of my classes check the October schedule here). It was my first time teaching this class and I loved it!
10:30 AM: More Yoga!
I took the next class, which was CORE Yoga. Since the Morning Flow class was small, I practiced along while I taught; so after this second class my muscles were starting to feel sore and I was starving!
12 Noon: Snack
I wanted to cook for lunch, so first I quickly peeled and ate an organic carrot to stave off that hangry feeling.
We've eaten so many fresh, local veggies lately thanks to our Ma'o Organic Farms box. I promise to write a full post about it soon! We got a ton of dandelion greens this week, so I chopped up a whole head for lunch.
I sautéed the greens with olive oil, apple cider vinegar, garlic powder, black pepper and Maui onion salt.
12:30 PM: Lunch
We had some leftover foccacia bread, so I toasted that up with butter. I scrambled the greens with three eggs with half a cup of cottage cheese. I know that might sound strange, but honestly it just mixes in with the eggs and you can't even tell the cheese is in there. Kiyo hates cottage cheese and he didn't even realize I'd fed it to him! Cottage cheese is great to add to your diet because it has probiotics and is super low in fat and sugar, and high in protein. I ate my eggs with mayonnaise and ketchup (yes, both, it is delicious!).