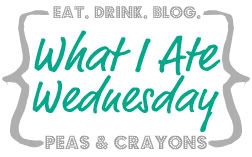 Usually my WIAW posts are days I'm most proud of. Today I'd like to confess share with you what I ate last Wednesday, as proof that I'm not always so healthy. Since I hadn't planned on sharing, I only have one picture from the day but I'll throw in some product shots so that you get the idea.
Since I was running late, breakfast was one Honolulu Cookie Company chocolate-dipped shortbread cookie my mom sent from Hawaii.
I also had a medium coffee with cream and stevia from Dunkin Donuts (they'd sent me a coupon for a free drink for my birthday; how could I resist a free coffee?).
I brought a healthy whole-wheat tortilla with almond butter and homemade jelly to work for lunch, but I didn't eat it because when I got in, I realized my Groupon for Yo Art at The Plaza expired that day, so I had to use it. This is the only picture I actually took last Wednesday, and I took it because I was thinking, wow, I can't believe I'm eating pure sugar for lunch, this must be documented! Obviously I could've had some self-restraint but I allowed myself to go overboard on the toppings/chocolate (so typical!) since I was having a rough week.
When I got home we didn't have anything fresh in our fridge so Kiyo and I made Annie's mac & cheese for dinner. I don't really see how it could be a "good source of protein" as the box claims, but I sure hope it was since by this point I'd pretty much only ingested sugar and fat.