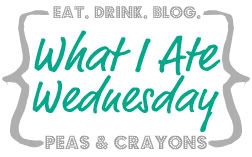 Breakfast: Sorry to reuse some pictures from last week's WIAW post, but this was the day after and so I had a few of the same things! Again, instant coffee with organic soy milk & stevia…
Breakfast: I needed to finish up the rest of the soy milk so I also made a smoothie with it: I just used some dark-chocolate syrup and a banana, and it was delicious!
Snack #1: six rosemary / olive oil crackers and homemade roasted red-pepper hummus, again.
Snack #2: I had a detox tea and then went to a one-hour vinyasa yoga class.
Lunch: leftovers! This time it was some homemade honey banana cornbread with butter, and homemade red cabbage cole slaw.